Back To Talonvest News Page



Talonvest Capital Inc., which is based in Irvine, CA, has closed $48 million of construction loans for self-storage facilities in Hawthorne, CA, and Portland, OR/Vancouver, WA.
The Hawthorne transaction was $20 million for the William Warren Group to build a four-story, 113,625-square-foot site at 4959 W. 147th St., off the 405 Freeway. It'll be an infill development near the LAX airport. Talonvest's Kim Bishop, Eric Snyder and Terra Hendrich worked on the loan: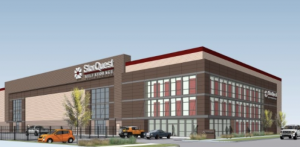 The second project, with a $28 million loan for Leon Capital Group, is for three multistory facilities with a total of 315,251 square feet in two sites – one in Portland, the other in Vancouver:



Talonvest's Jim Davies, Tom Sherlock, Bishop and Snyder worked on the deal. The company advises self-storage and commercial real estate investors, owners and developers nationally.